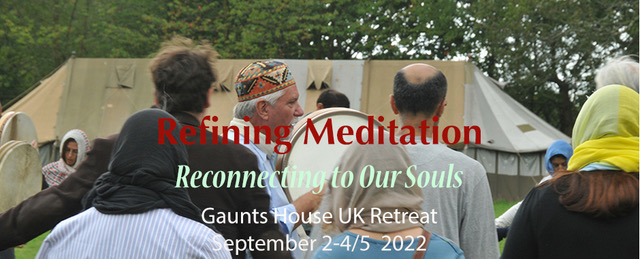 Refining Meditation, Reconnecting to Our Souls
Gaunts House UK Retreat Sep 2-4/5, 2022
With Shaikh Kabir Helminski, Selcuk Gurez & friends

LIMITED PLACES AVAILABLE
We have all been through a time of isolation, fear, and uncertainty. The time has come to restore our human bonds, to reconnect individually, socially, and spiritually.
Meditation, a state of awareness beyond thought and emotion, is a fundamental practice of our spiritual path. This year's retreat will be a time to practice our meditation skills and deepen our understanding and experience of meditation. Within the serene setting of the Gaunts estate, the reality of soul can more readily be experienced. Supported by the traditional practices of our tradition — movement, music, zhikr, and prayer — layers of conditioning fall away and the natural radiance of each soul shines forth.
All our activities will be mindfully planned for optimum health, including fresh air, spaciousness, outdoor practices, and walks in nature. Join us for a contemporary experience of sacred space, beauty, friendship, and prayer in beautiful countryside with precious community!
The main retreat will start on Friday 2nd September at 5pm with arrivals/registrations. We will again have an additional day with a lighter, more informal schedule. The main retreat will end at 2pm on Sunday and the additional day will begin from 3pm, ending 2pm Monday. We ask attendees leaving on Sunday to kindly begin their onward journey before 3pm.
STANDARD REGISTRATION UNTIL AUG 26TH
FRI-SUN ADULT Boarding £340, Camping £275
MONDAY ADULT Boarding £175, Camping £135
Please note that registrations close Friday 26th August.
Retreat Bus
Leaving from London Kings Cross to Gaunts House on Friday 1pm.
Return ticket: £65
ROOM AVAILABIITY
2 standard shared twin/triple rooms (communal bathroom)
Camping available
TO CONFIRM YOUR PLACE
1. Places are nearly fully booked. Carefully read and email the completed registration form – download here – and Fohzia will confirm if there are still places available. Email Fohzia at thresholdsociety@yahoo.com
2. Once Fohzia has confirmed your place please make your payment using the PayPal link below: